Comedy Night for Friday, March 29, 2019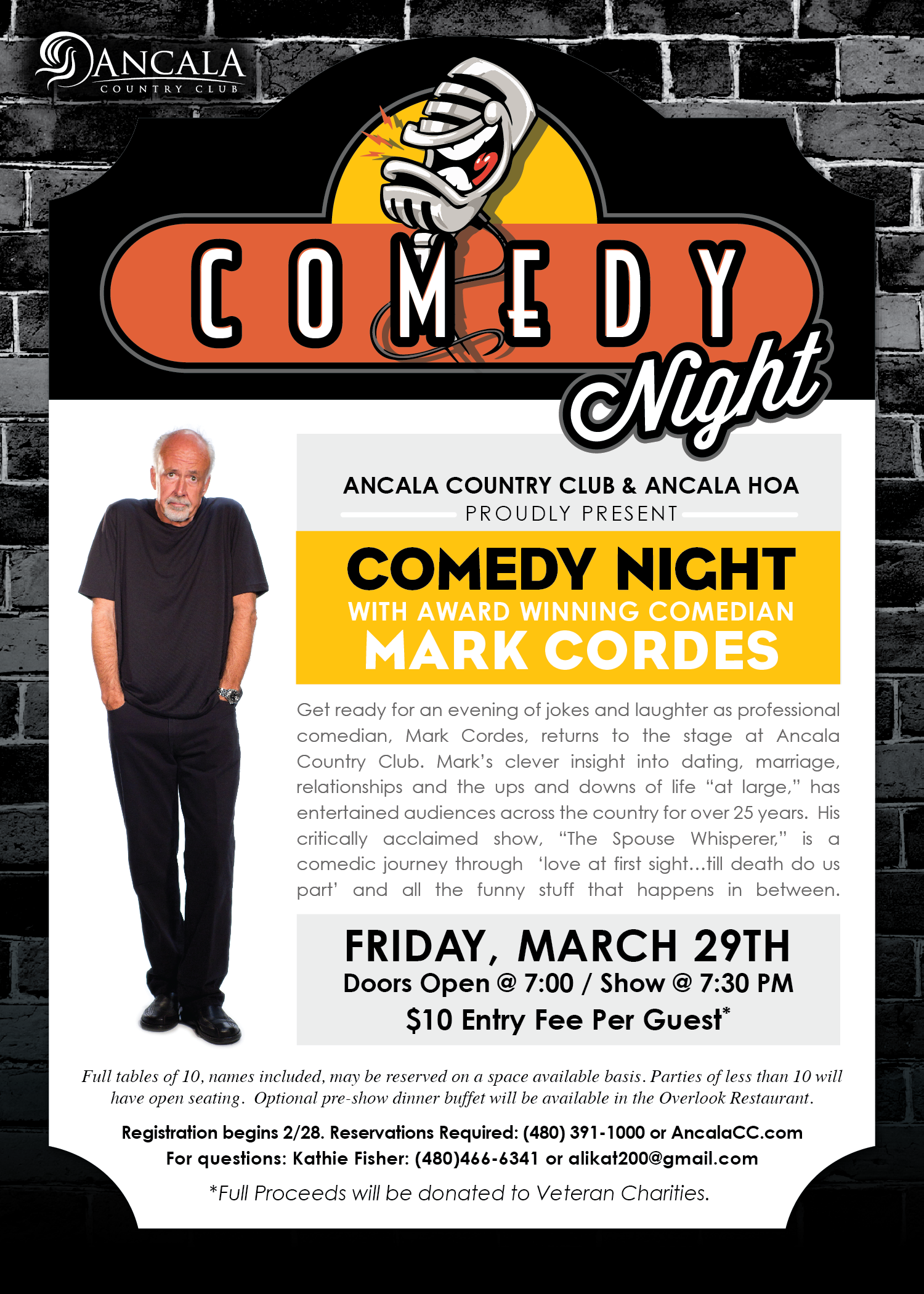 Ancala Country Club and the HOA Proudly Present Comedy Night
Get ready for an evening of jokes and laughter as professional comedian, Mark Cordes, returns to the stage at Ancala Country Club.
Mark's clever insight into dating, marriage, relationships and the ups and downs of life "at large," has entertained audiences across the country for over 25 years. His critically acclaimed show, "The Spouse Whisperer," is a comedic journey through 'love at first sight…till death do us part' and all the funny stuff that happens in between.
This special evening is sponsored by the Ancala Homeowner Association and will be hosted at the Ancala Country Club. RESERVATIONS ARE REQUIRED. Full tables of 10, names included, may be reserved in advance on a space available basis. Parties of less than 10 will have open seating. Snacks will be provided on tables. A cash bar will be available.
Optional pre-show Italian dinner buffet will be available in the Overlook Restaurant $24 Per person. Dinner Menu not available. RESERVATIONS REQUIRED 5:00 pm-8:00 pm Limited Seating. Tables 8 or larger not available.
WHEN: Friday March 29th, 2019

7:30 pm Show Time ( doors open 7pm )

WHERE: Ancala Country Club Ballroom
RSVP: (480)391-1000 or ancalacc.com

Registration begins Wednesday February 28th

COST: $10 entry fee per guest. *
QUESTIONS: Kathie Fisher (480)466-6341 or alikat200@gmail.com
Event is sold out. Please call 480.391.1000 to add your name to the waiting list.